Chinese Sword Chrysanthemum Qing Dao Hazuya Polish Damascus Steel Clay Tempered Blade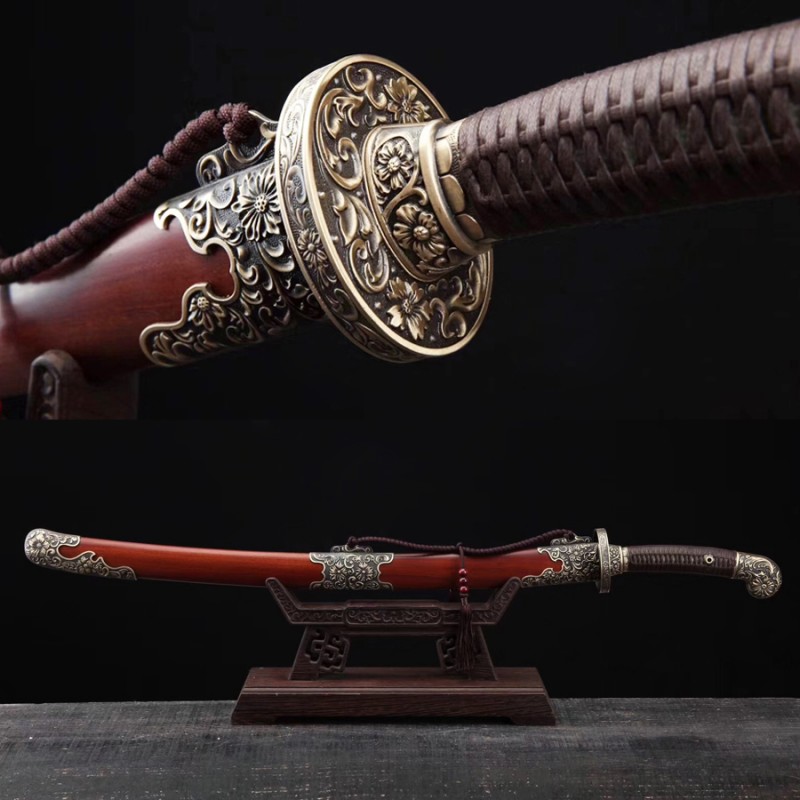 In China, the dao is considered one of the four traditional swords, along with the gun (stick or staff), qiang (spear), and the jian (double-edged sword). Dao are single-edged Chinese swords, primarily used for slashing and chopping. During the Qing period there were a number of different styles and designs of dao being used; as a whole these groups of dao were called peidao, meaning "waist knife", for how they were hung at the belt.
The blade of this chrysanthemum Qing Dynasty Dao(菊花清刀)is made of Hazuya polishing Damascus steel that is painstakingly forge folded by hand. There are approximately 8,192 layers of steel, which is folded 13 times. The hamon is authentic all the way up to the tip because of real clay tempered. There are double grooves cut into the blade to lighten the weight and keep a better balance. The scabbard is a very high quality rosewood with pure brass mountings in a chrysanthemum pattern. The wood core handle is shaped to be very ergonomic, and is then tightly wrapped in the traditional method with ito. This sword comes in a high quality sword bag and certificate of authenticity.
Chinese Sword Chrysanthemum Qing Dao Fine Hazuya Polish Damascus Steel Clay Tempered Blade Features:
HanBon Forge Chinese Sword Qing Dao (刀)
Damascus folded steel, 8192 layers folded pattern
Hazuya polishing, clay tempered
Double hi to lighten blade weight
Wooden handle core tightly wrapped with brown ito
Top quality rosewood scabbard
Pure brass mountings with exquisite engravings
Dao size:
Overall Length: 99 cm
Length (without scabbard): 95 cm
Blade Length: 71 cm
Handle Length: 23 cm
Blade Width: 4.0 cm
Blade Thickness: 0.8 cm
Weight (with scabbard): 2.3 kg
Weight (without scabbard): 1.35 kg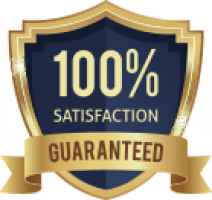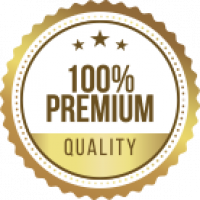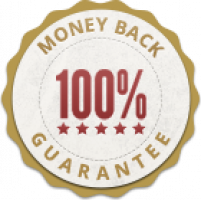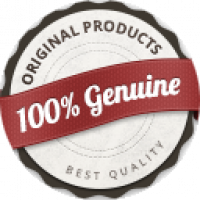 AS A SWORD MENUFACTURER, WE TAKE GREAT PRIDE IN THE QUALITY OF OUR SWORDS AND GUARANTEE YOU WILL BE SATISFIED WITH ANYTHING YOU PURCHASE AT HANBONFORGE.COM. IF FOR ANY REASON YOU ARE NOT COMPLETELY SATISFIED WITH YOUR PURCHASE, SEND IT BACK TO US. WE WILL BE HAPPY TO MAKE AN EXCHANGE OR ISSUE YOU A REFUND FOR THE ORIGINAL PRICE PAID ONCE THE ITEM IS RETURNED.
Product Code:

HB786

Availability:

In Stock
Available Options
Tags: qing dynasty dao sword, Chinese Sword, Chinese Dao Sword, chinese swords for sale, handmade chinese swords, functional chinese swords, fully functional chinese swords