FAQs
1.Q: When will you deliver my item once I place my order and complete payment?
A: Normally, your order will be processed and then shipped within 24 business hours upon receipt of your payment . As is known to all, it usually takes some time to finally finish a sword with high quality. If you place customization order, it may take much longer time to finish according to your specific requirements, much appreciated for your understanding and patience.
2.Q: Does HanBon Forge offer Drop Shipping and Wholesale?
A: Yes, as a sword manufacturer, HanBon Forge also offer dropshipping and wholesale. click here to see more information.
3. Q: how long does it take after swords delivery?
A: It usually takes about 8-30 days to ship to the destination, but it's probable more than 30 days because of unexpected reason(such as abnormal weather etc).Please kindly note it mostly vary from country to country and region to region, also it depends on the shipping method used.
4.Q: Could you please provide tracking number to trace goods?
A: Yes, we'll supply you with the tracking number as well as the website, so that you are able to trace your parcel status whenever necessary.
5.Q: How can I get my parcel based on above-mentioned(free postage) shipping method?

A: yes, the poster will deliver the item to your shipping address.
6.Q: What should I do in the case of not in while item arrival?

A: The parcel will stay in your local area for 5-10 days after arrival, you can pick up your parcel at any time within these days. Our after-sales will help to trace your parcel and contact you whenever necessary. Please kindly note we are unable to take any responsibility for parcel returned if due to no one check or shipping address incorrect or insufficient etc. If you need us to resend it, we'll charge you shipping cost accordingly. If not resend, we will return you total price but with occurred shipping charge deducted. Highly appreciate for your understanding, please do make sure to provide us with your shipping address as detailed as possible plus your tel number if convenient.
7.Q: What should I do if my parcel hasn't arrived within 30 days?
A: Please do contact us timely if your parcel hasn't arrived within 20 days, we'll carefully trace and check it. As we all know, international shipping always need more patience before final arrival. If lost, we'll resend it for you or refund your total charges as required.
8.Q: Is it possible to delivery my swords on weekends and holidays?

A: Yes, we ship your swords on weekends and holidays.
9.Q: How about the packing, safe enough?
A: Your swords will be packed by the super-thick foam box. Its merits:

1) package density is high enough to completely wrap swords.
2)Its extra-heavy elastic force can remove external forces to determine the products safe. Besides, outside of the package, strong adhesive tape will be wrapped to ensure the parcel is waterproof and rust-proof.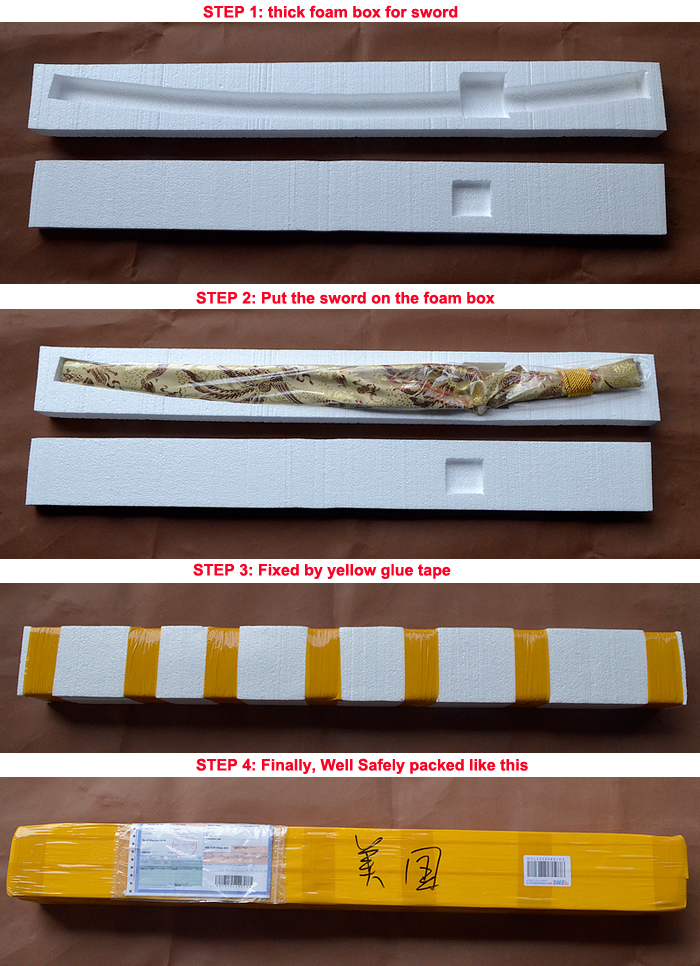 10. Q: How often should a blade be oiled?
A: Just for maintenance, remove old oil and put new oil every 6 months is enough.
On the freshly polished blade, more often oiling is necessary because if the steel may include some water. And some modern polishing uses acid, it is very dangerous. So careful treatment is necessary.
Usually, treat every week during one month, then once every month during 6 months. Then it can be treated with normal way. If you can't believe the polisher, oiling more often would be good for the blade.