How to oil your katana?
05 Jul

0 Comment(s)
3630 View(s)
Whether you own a katana, tachi, wakazashi, tanto, or any other sword, you need to take care of the blade properly. The sword requires very little maintenance to maintain its appearance and structural integrity. However, an important step in sword maintenance is oiling. By applying oil to the blade of the sword, you can protect it from damage and extend its life.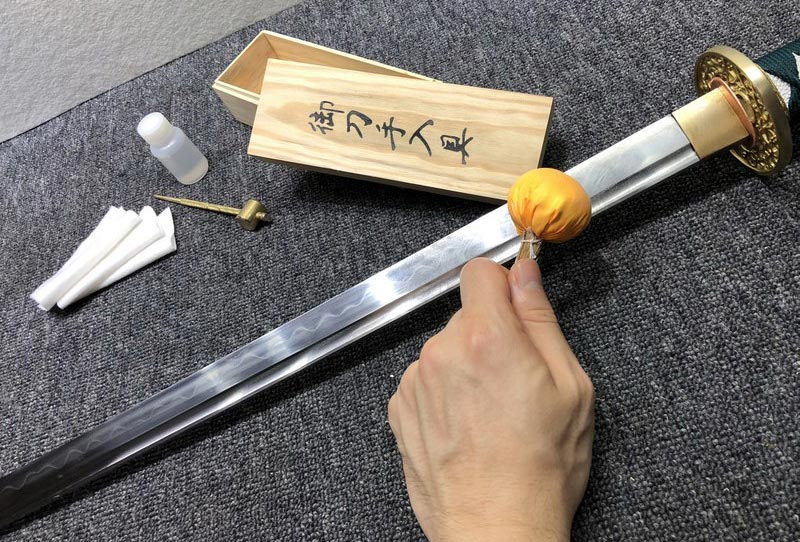 Benefits of oiling the sword
The main purpose of oiling the blade of a sword is to protect it from rust and corrosion. No matter what type of sword, all swords are prone to rust. This natural phenomenon occurs when oxygen molecules come into contact with the iron metal in the blade, which triggers oxidation and subsequently causes it to rust.
I know what you might be thinking: my sword is not made of iron, so it will not rust. Well, the fact is that all swords contain at least some iron in the blade. Whether it is bronze, stainless steel or high-carbon steel, almost all metals used to make swords contain iron. It is true that the iron content of stainless steel is lower than that of high-carbon steel, but the fact is that all swords contain iron. Therefore, they can all rust.
By applying oil on the blade, you will form a protective barrier between the iron metal and the external elements. When water vapor in the air (containing oxygen molecules) reaches the blade of the sword, it usually rusts. The blade is coated with oil, and water vapor will not reach the blade, thereby preventing rust and corrosion.
Choose the right oil
There are special oils designed specifically for swords, some of which are sold in cleaning kits. However, most of these products contain the same basic ingredient: mineral oil. Mineral oil is a safe and effective solution to prevent rust and corrosion of your sword.
Alternatively, you can use Changzhi oil, which is usually recommended for traditional Japanese swords. However, having said that, choji oil is actually mainly composed of mineral oil and a small amount of clove oil. Clove oil has no functional purpose; it only adds a pleasant smell to the sword when it is finished.
Smear oil
To apply oil, put a small amount of product on a lint-free microfiber cloth, and then carefully wipe the surface of the blade, being careful not to accidentally cut yourself. You want to apply a thick layer of oil to make sure that the entire blade is covered. After finishing, carefully put the sword in the storage room.
Discover the many attractive options available for Katana swords and custom swords.
Want a unique sword? Feel free to contact us:
Phone: 086 13739276006
Email: [email protected]
Website: www.hanbonforge.com
Custom Sword Page: www.hanbonforge.com/CUSTOM-SWORDS/Custom-Your-Own-Swords