Japanese Katana Warrior Sword High Carbon Steel Full Tang blade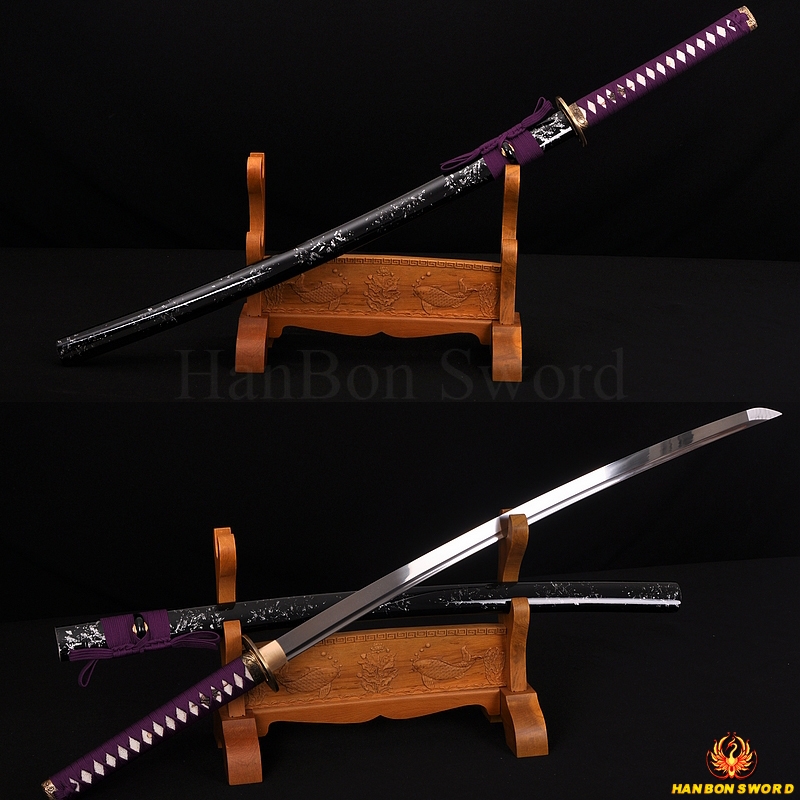 Important Notes:
(1): We offer custom service. If you do not like the fittings on this sword, you can select your preferred options from the dropdown. Click here to view all available Japanese swords fittings.
(2): We offer blade engraving service, it is FREE to engrave Chinese characters, English letters or Japanese kanji on the blade by Laser engraving machine. please write engraving contents in the note when you pay.
(3): We will ship sword to you by EMS Express. we will send tracking numbers to your registered mail after parce sent.
(4): Each customized sword comes with a free sword bag and a certificate of authenticity.
This Katana is full hand forge, The balde was mde of 1060 high carbon steel, it was Fully hand forged in a completely traditional manner. This blade comes with a full length Tang which greatly enhances the strength of the sword while swung.The tang will be filed to match well with the handle. the blade is hand polished and hand sharpened by 12 steps which create the surface of the blade like a morrior. The saya is done in a beautiful black gloss finish with white dots going the whole length of the scabbard and the sageo is purple synthetic silk Ito. The tsuka is wrapped in white genuine SAMEGAWA (ray skin) and the tsuka-ito is purple synthetic silk Ito. this sword is very sharp can cut bamboo trees(fresh),tatami or slice paper.
Japanese Katana Warrior Sword Features:
HanBon Forge Handmade Katana
Hand Forge 1060 high carbon steel
12 steps hand polishing and sharping
Full tang blade with 2 bamboo mekugi
black gloss finish with white dots blade
Purple synthetic silk Ito and Sageo
White genuine SAMEGAWA (ray skin)
Warror Theme Tsuba, Fuchi, koshira and Menuki
Hineri-maki wrap Handle
One piece brass construction habaki
Can take it apart for maintenance
Can cut the bamboo trees(fresh),tatami or slice paper
KATANA Size:
Over Length: 40.9"
Blade Length: 27.7"
Handle Length:10.5"