Japanese KATANA Sword Black&Red Damascus Oil Quenched Full Tang Blade Dragon Koshirae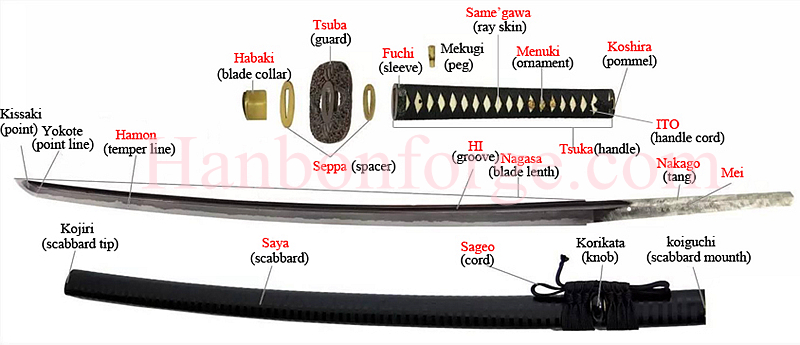 This sword is made of damascus folded steel with a polished mirror-like surface. The blade is repeatedly heat treated and hand forged to remove impurities, which gives it strength and flexibility. After sharpening, the blade is etched with an oxidation process to give the surface it's red color. It has long HI on each side and a Chu-kissaki on the top of the blade. The blade is hand polished by 12 steps. The dragon design brass tsuba(guard) with one piece brass habaki(blade collar). Two copper Seppas(spacer) secure the tsuba of the sword. The fuchi(sleeve) and kashira(buttcap) are made of brass. The Tsuka(handle) has red genuine samegawa ray skin with black chemical fiber ito which is tightly wrapped in hineri-maki method and with two bamboo mekugi pinned and two dragon theme menuki(ornament) decorated. Black&red high gloss finished saya comes with black&red thick synthetic sageo which has been tied around the bright copper Kurigaga (knob) of the scabbard. the Koiguchi has been hardened. This sword is well-crafted and well-assembled, it is a good choice for Dojo students, gifts, and display.
Black&Red Damascus Oil Quenched Full Tang Blade Dragon Koshirae Japanese Sword KATANA Features:
HanBon Forge Handmade Japanese katana
Hand forged damascus folded steel
Heated treated and oil quenched blade
Red and black pattern on the blade
Full Tan on each side of the blade
Dragon theme design brass tsuba
Black synthetic silk tsuka-ito
Black&red synthetic thick sageo
Red lacquered genuine SAMEGAWA (ray skin)
Very Tight Hineri-maki wrap Handle
Two dragon design copper menuki on each side of the handle
Black&red gloss finished saya(sheath)
Brass habaki and seppas
Can be fully disassembled and assembled
Comes with a free sword bag
NOTE: If you do not like the color or Mountings on this sword, please click HERE to choose different mountings.
KATANA Size:
Over Length: 41"
Blade Length: 27.7"
Handle Length:10.5"