New Katana Red Saya 1095 Steel Full Tang Blade Japanese Sword
29 Jul
New Katana Red Saya 1095 Steel Full Tang Blade Japanese Sword
Just finished this Katana sword, the blade is made of 1095 high carbon steel, heat treated and oil quenched. The lower section of the blade is engraved with "今古有神奉志士". The blade has been hand polished and hand sharpened, it is very sharp and it has a mirror like surface. The long Hi(blood groove) not only allows for a lighter blade and audible feedback when swung, but also can balance the blade to achieve optimal performance. This katana sword comes with black real rayskin and red high gloss finished saya(sheath). The sea wave design Tsuba(guard), menuki and other Koshirae are made of high quality brass. The Kojiri, Koiguchi and kurikata are made of bull horn.
Here below are detailed information about this katana.
New Katana Red Saya 1095 Steel Full Tang Blade Japanese Sword Sepcification:
KATANA Size:
Over Length: 40.9"
Blade Length: 27.7"
Handle Length:10.5"
Hand forged 1095 high carbon steel

Maru style laminated full tang blade

Hand polishing and sharping

Long HI on each side of the blade

Full Tang Blade with 2 bamboo mekugi(pegs)

Sea wave design brass tsuba(guard) and Koshirae

Red synthetic silk tsuka-ito and sageo

Black lacquered genuine SAMEGAWA (ray skin)

Very Tight Hineri-maki wrap Handle

Red gloss finished saya(sheath)

Bull horn made Kojiri, Koiguchi and kurikata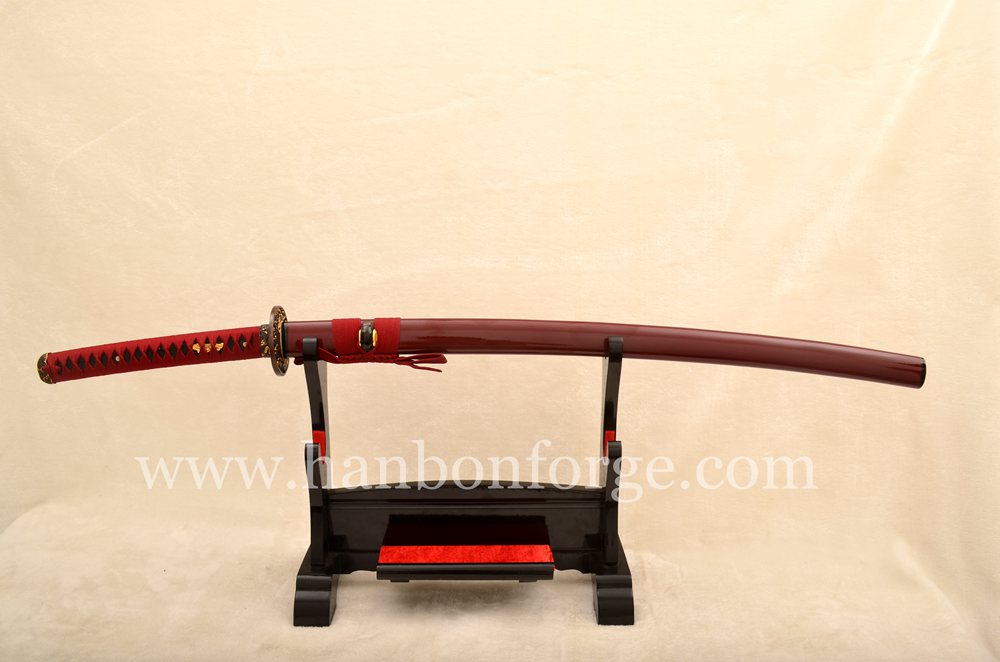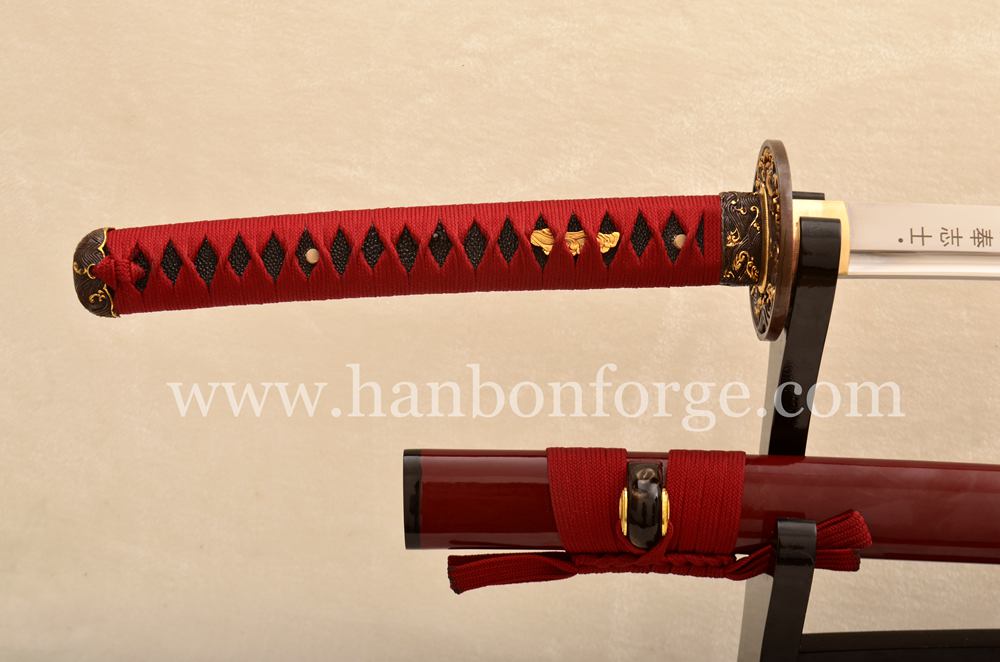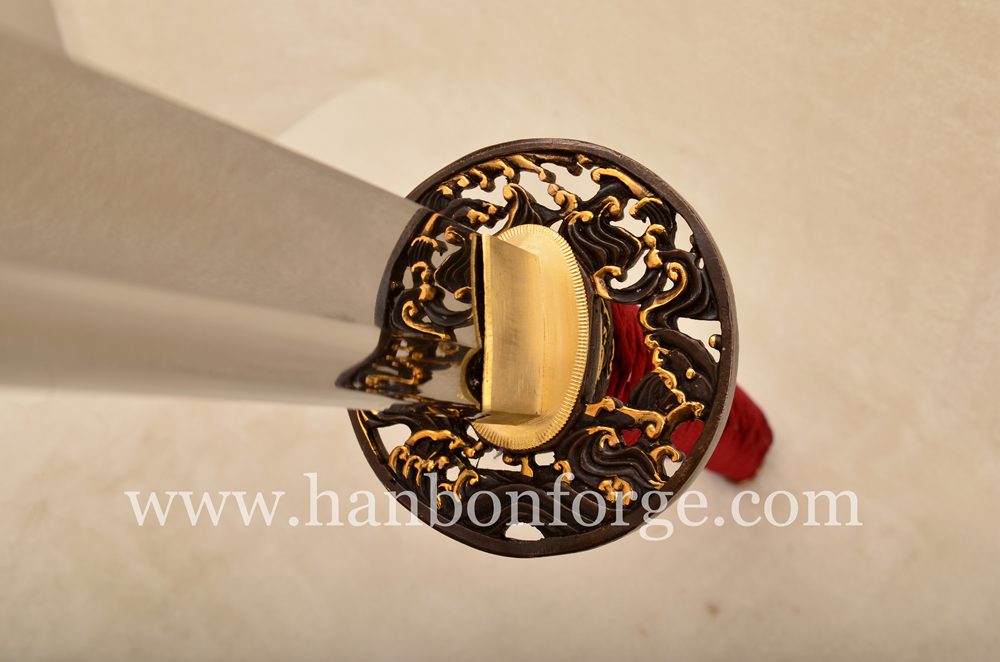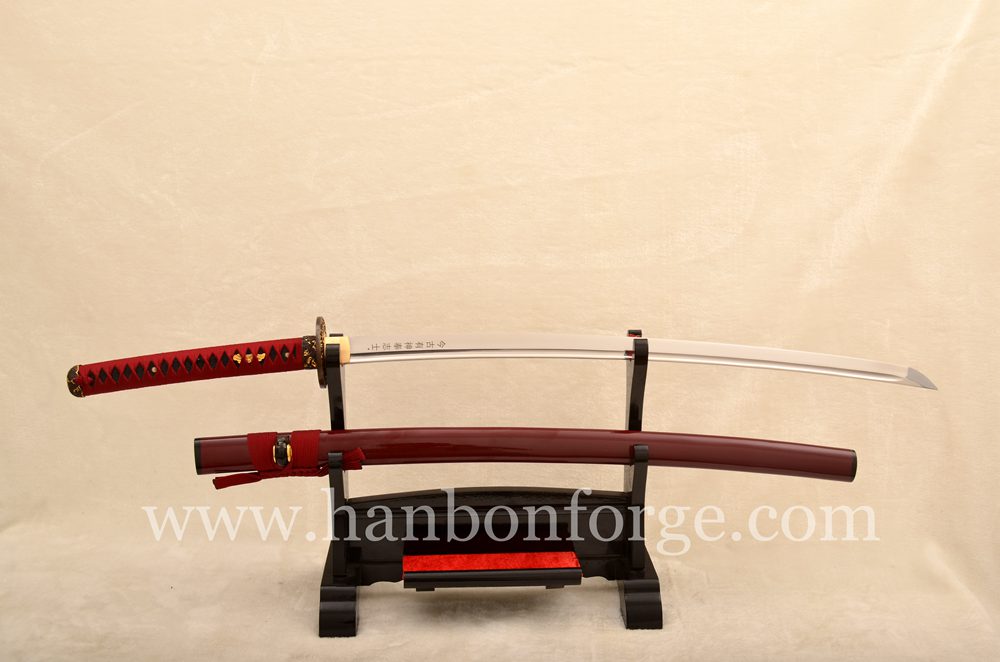 Want a unique sword? Feel free to contact us
Skype: hanbon-sword
Phone: 086 13739276006
Email: [email protected]
Website: www.hanbonforge.com
Custom Sword Page: www.hanbonforge.com/CUSTOM-SWORDS/Custom-Your-Own-Swords