Customized Kobuse Blade T10+Folded Steel Tanto Sword
26 Aug
Posted By
0 Comment(s)
1881 View(s)
Customized Kobuse Blade T10+Folded Steel Tanto Sword
This is a customized tanto sword, it was made for our US customer. The construction of the blade is GYAKU-KOBUSE, it was made of folded steel+T10 steel. The visible tenuous undulating grain on the blade was resulted from folded repeatedly during forging. The whole blade has been clay tempered, the beautiful real hamon on the blade is also result from the differential cooling of the blade (quenching and tempering). The blade has been Hazuya polished, it is very sharp. This sword tsuba was made of high quality brass with dragon design, and the tsuka(handle) was wrapped by yellow real rayskin(Samegawa) and black synthetic silk ito. It comes with a red rayskin wrapped saya(sheath). It is very sharp and strong for using. See the detailed specifications below:
Customized Kobuse Blade T10+Folded Steel Tanto Sword Specification:
T10 steel + folded steel full tang blade

GYAKU-KOBUSE construction blade

Differentially Clay tempered and water quenched

HAZUYA polished with multiple grade sharpen stone

Dragon design brass tsuba and menuki

Yellow genuine Ray skin Samegawa

Black synthetic silk tsuka-ito

Thick black synthetic sageo

Very Tight katate-maki wrap Handle

Hard wooden saya(sheath) with red real ray skin wrapped

Double Pinned Bamboo Mekugi(peg)

Buffalo horn koiguchi and kurikata

Brass habaki and Seppas

Can be fully disassembled and assembled

Can cut the bamboo trees(fresh),tatami or slice paper

Comes with a free sword bag and certificate of authenticity.
Tanto Size:
Over Length: 19.9"
Blade Length: 11.8"
Handle Length:7.7"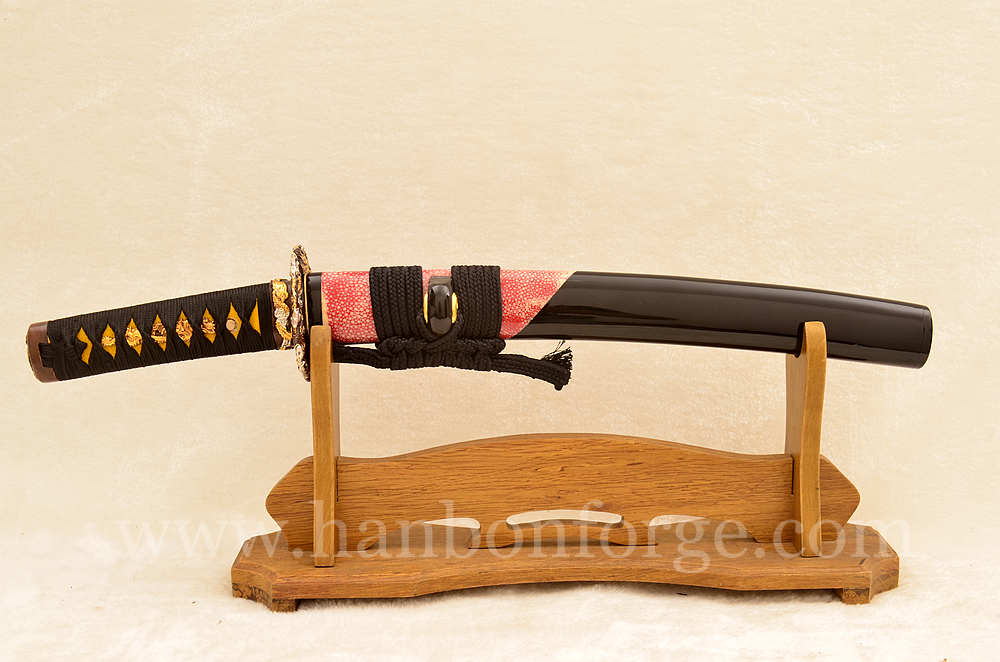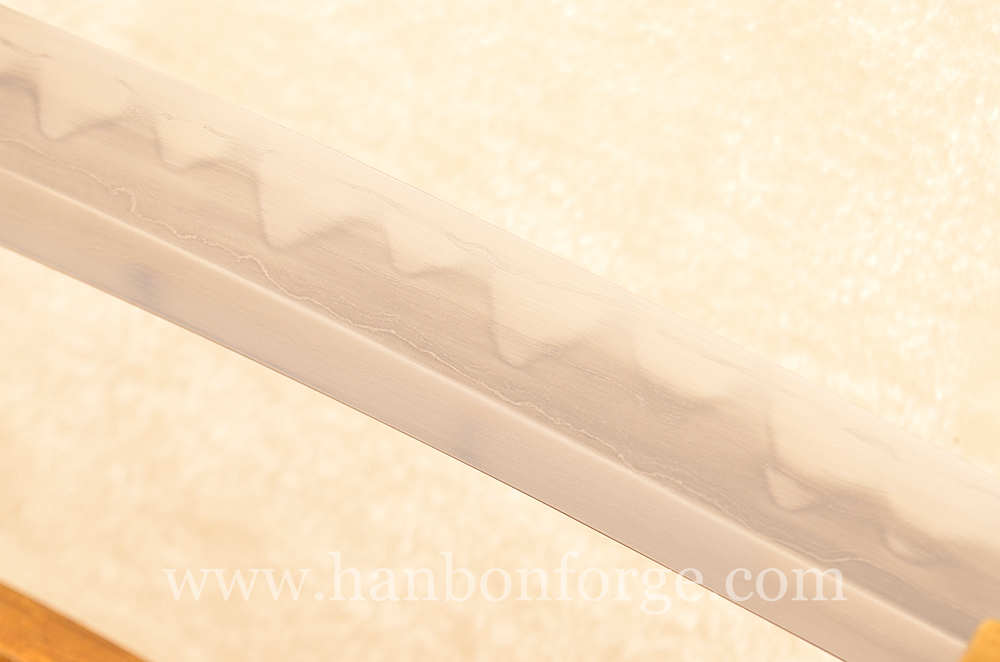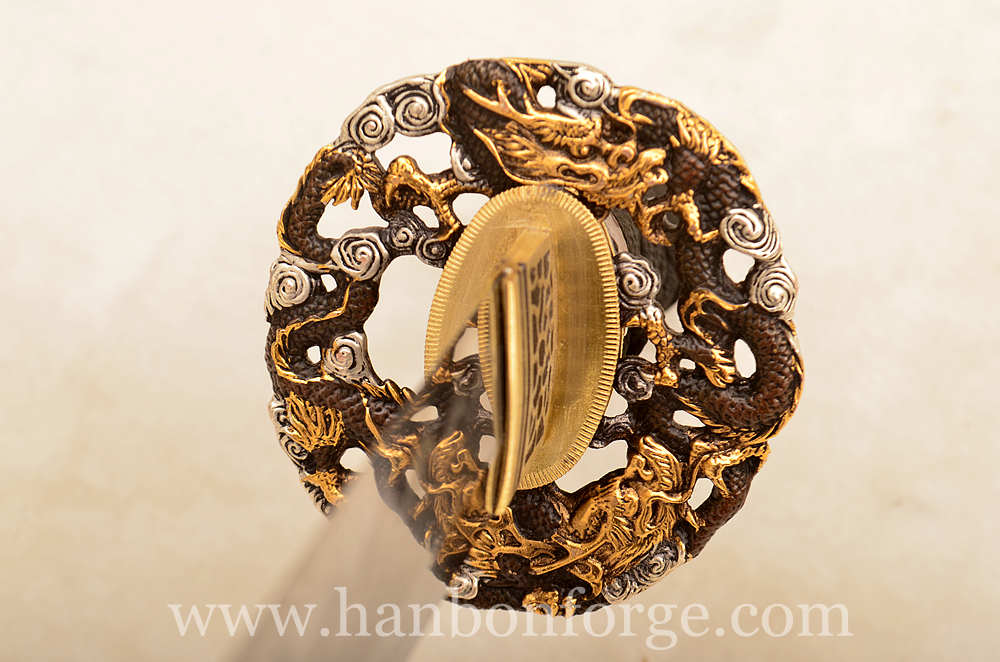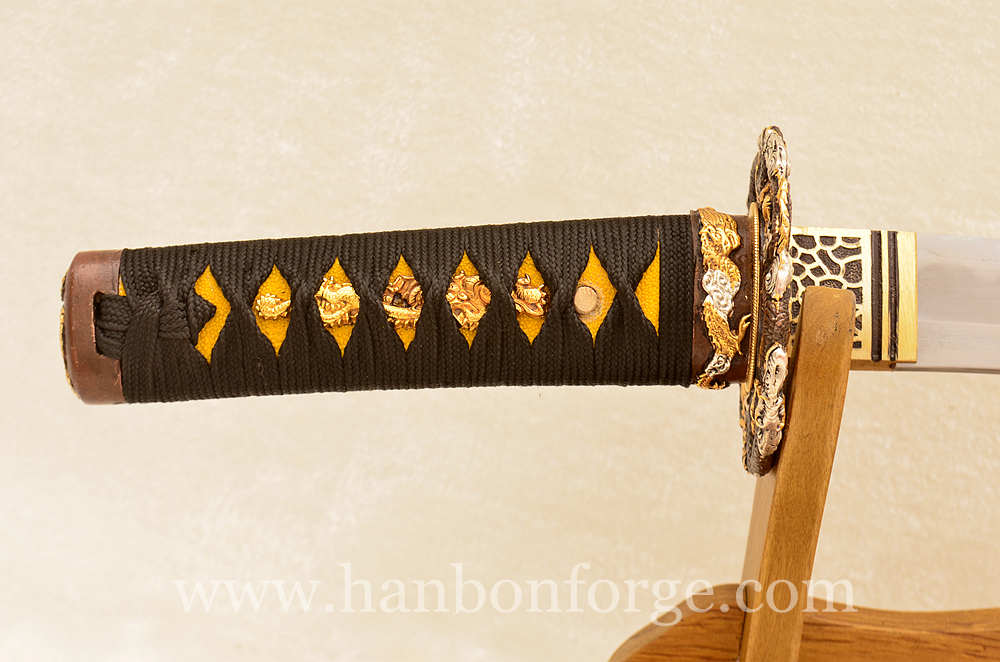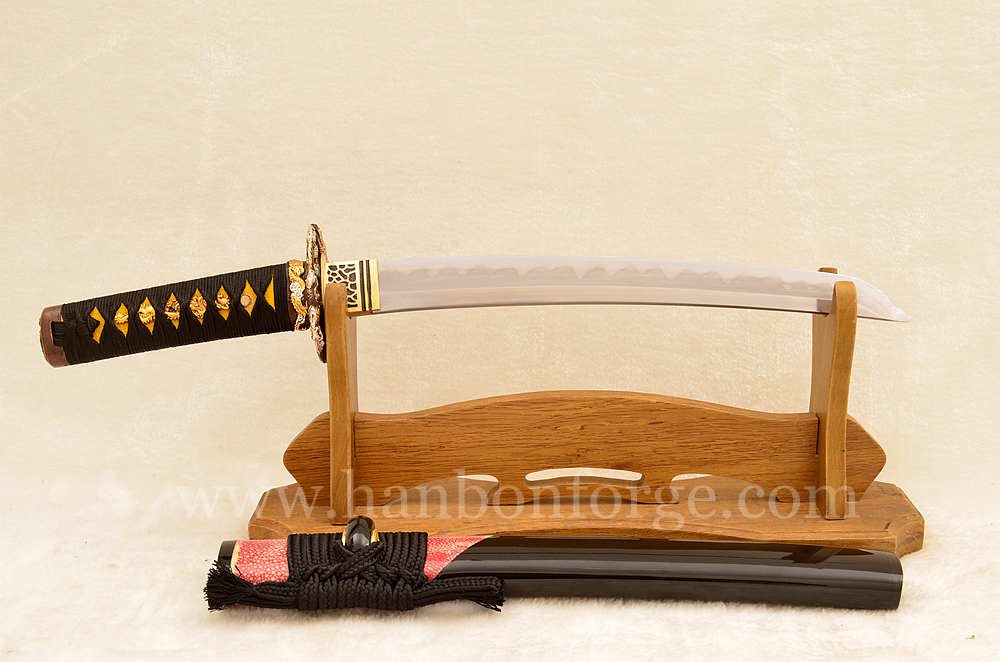 Want a unique sword? Feel free to contact us
Skype: hanbon-sword
Phone: 086 13739276006
Email: [email protected]
Website: www.hanbonforge.com
Custom Sword Page: www.hanbonforge.com/CUSTOM-SWORDS/Custom-Your-Own-Swords