Customized Dragon Tsuba Katana With Kobuse Blade Rayskin Wrapped Saya
13 Aug

0 Comment(s)
2741 View(s)
Customized Dragon Tsuba Katana With Kobuse Blade Rayskin Wrapped Saya
This Katana was made for our US customer. It was a customized sword. The construction of the blade is KOBUSE. It is constructed from two different kinds of steel, the core steel and the outer steel, where the core steel is wrapped with the outer steel. The core steel is harder than the outer steel. The outer steel was made of folded steel. It was folded 13 times creating 8192 layers for superior strength and flexibility. The core steel was made of 1095 steel. The steel has been throughly refined and tempered, a special clay is applied to the blade by hand, using a thin covering near the edge and a thicker layer over the rest of the blade. The whole blade was clay tempered with real hamon. The blade has been Hazuya polished and hand sharpened. It is very sharp! Here below are detailed informations about this katana sword.
Customized Dragon Tsuba Katana With Kobuse Blade Rayskin Wrapped Saya Specifications:
GYAKU-KOBUSE construction Full tang blade

Folded steel+1095 steel blade with real hamon

Differentially Clay tempered and water quenched

HAZUYA polished with multiple grade sharpen stone

Dragon design brass tsuba(guard) and menuki

Green lacquered genuine Rayskin Samegawa

Black synthetic silk tsuka-ito and black thick sageo

Very Tight katate-maki wrap Handle

Green samegawa wrpped hard wooden saya(sheath)

Double Pinned Bamboo Mekugi(peg)

High quality brass habaki and Seppas

Can be fully disassembled and assembled

Can cut the bamboo trees(fresh),tatami or slice paper

Comes with a free sword bag and certificate of authenticity.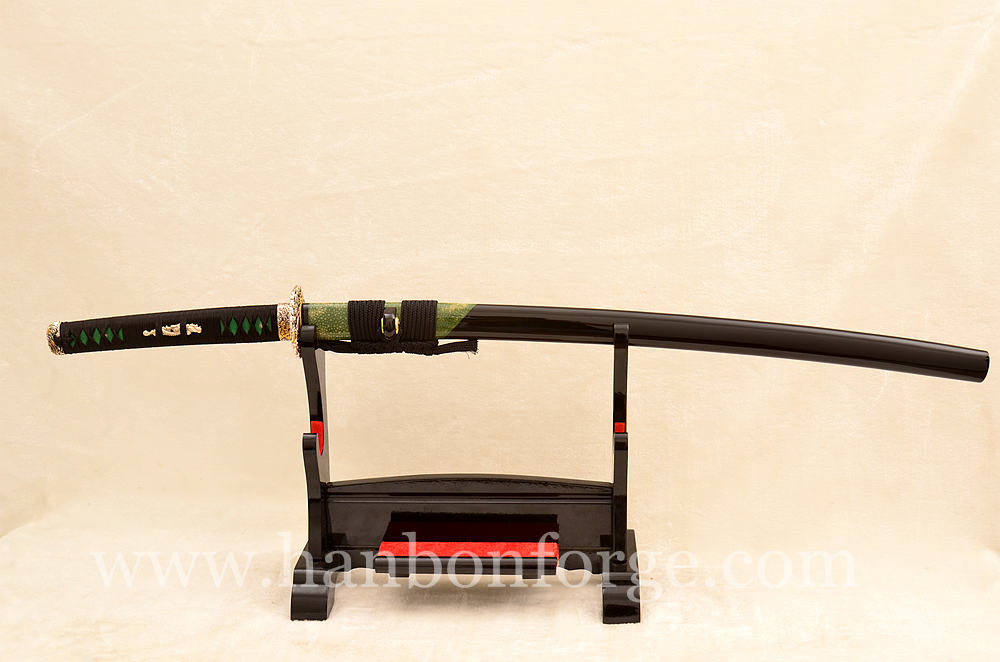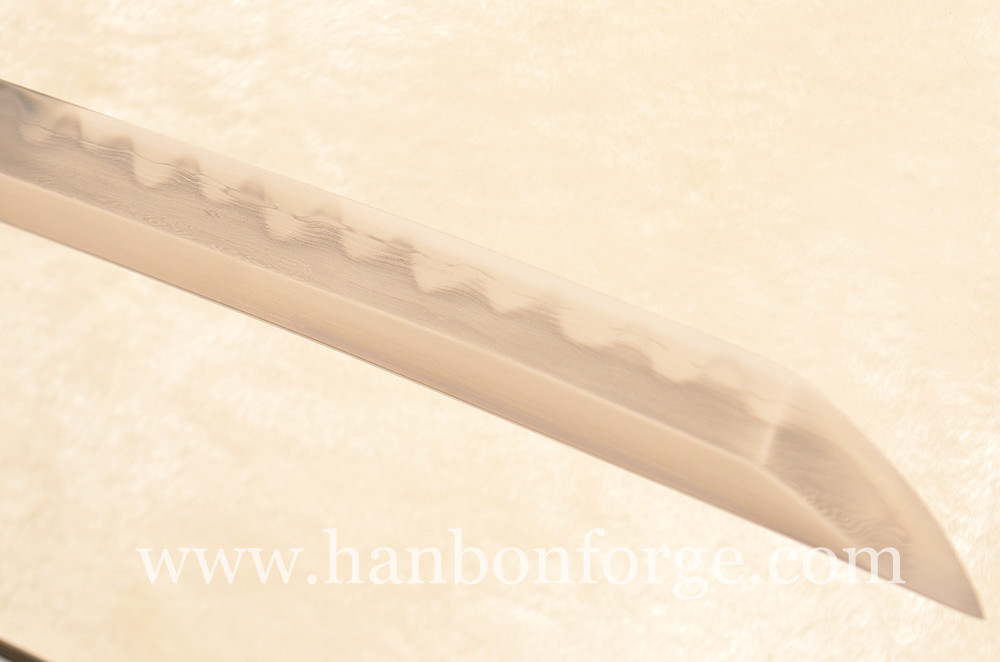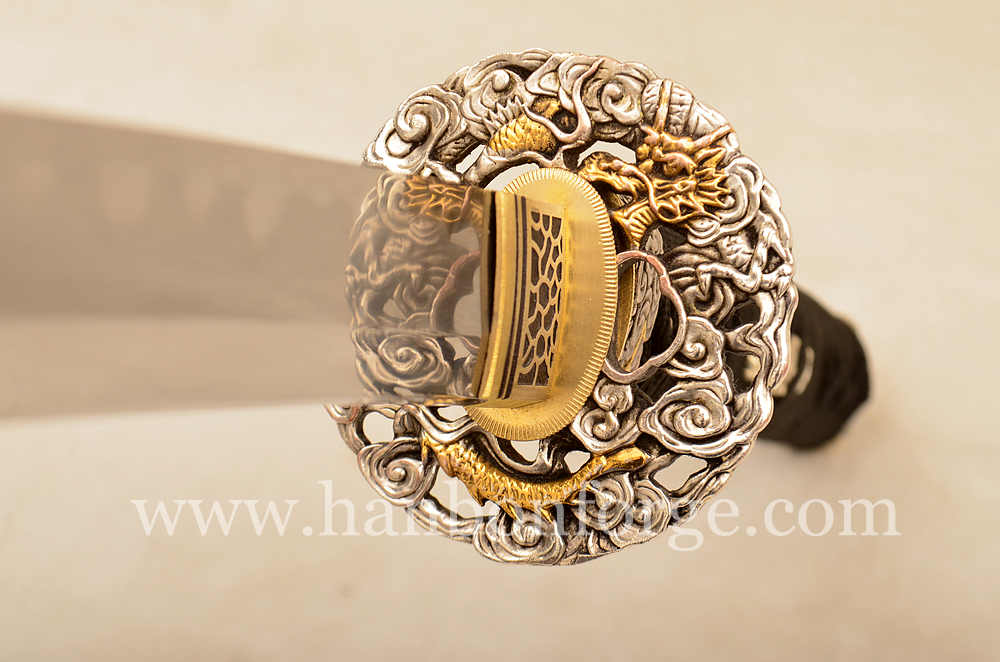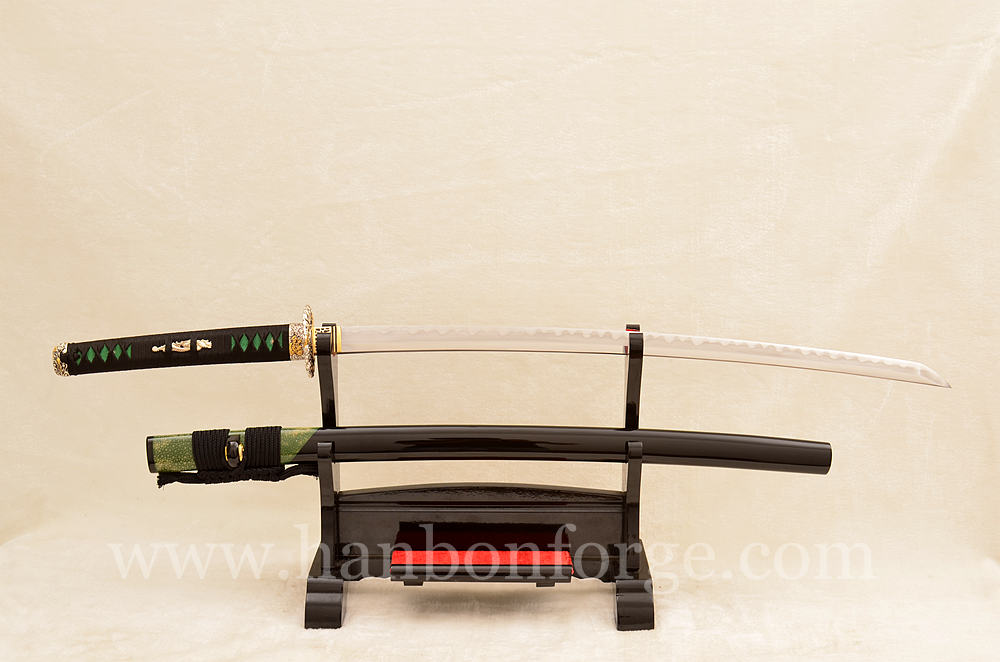 Want a unique sword? Feel free to contact us
Skype: hanbon-sword
Phone: 086 13739276006
Email: [email protected]
Website: www.hanbonforge.com
Custom Sword Page: www.hanbonforge.com/CUSTOM-SWORDS/Custom-Your-Own-Swords