Custom-made Full Tang 1060 Steel Tanto Sword
23 Aug

0 Comment(s)
16685 View(s)
Custom-made Full Tang 1060 Steel Tanto Sword
This Tanto sword was made for our US customer Richard. This sword blade was made of 1060 high carbon steel with grooves (bo-hi) on both sides. The full tang blade has been oil quenched and hand sharpened. The tsuka(handle) was wrapped with yellow real rayskin(SAMEGAWA) and redbrown leather tsuka-ito. The tsuba(guard) was made of iron. The saya(sheath) has been yellow high gloss finished, and the Sage-o is thick yellow synthetic silk cord. More details see below:
Custom-made Full Tang 1060 Steel Tanto Sword Specifications:
Hand forged 1060 high carbon steel
Heated treated and oil quenched blade
Full Tang Blade with 2 bamboo mekugi(pegs)
Hand polishing and sharping with sharpen stone
High quality black iron tsuba(guard)
Fine finished dragon design menuki
Red-brown leather tsuka-ito
Yellow lacquered genuine SAMEGAWA(ray skin)
Very Tight Hineri-maki wrap Handle
Yellow high gloss finished saya(sheath)
One piece brass construction habaki
Can be fully disassembled and assembled
Can cut the bamboo trees(fresh),tatami or slice paper
Comes with a free sword bag and certificate of authenticity.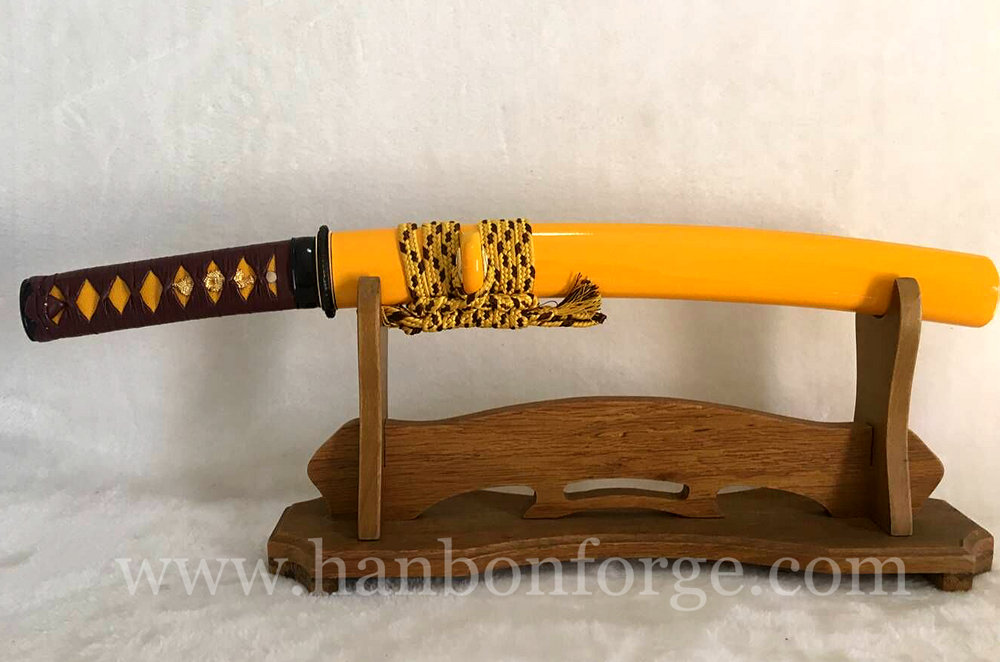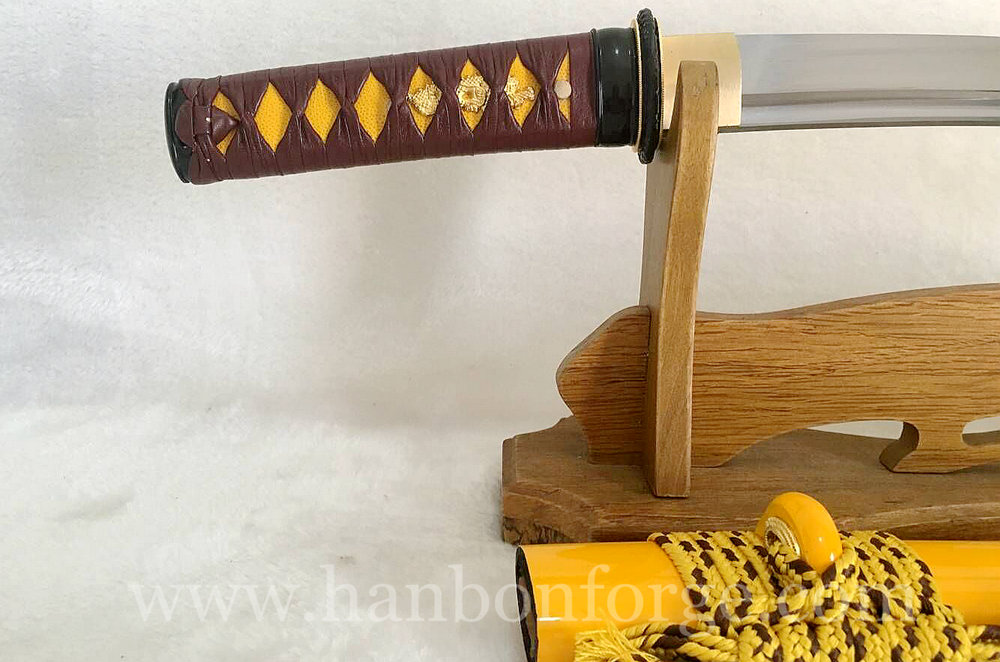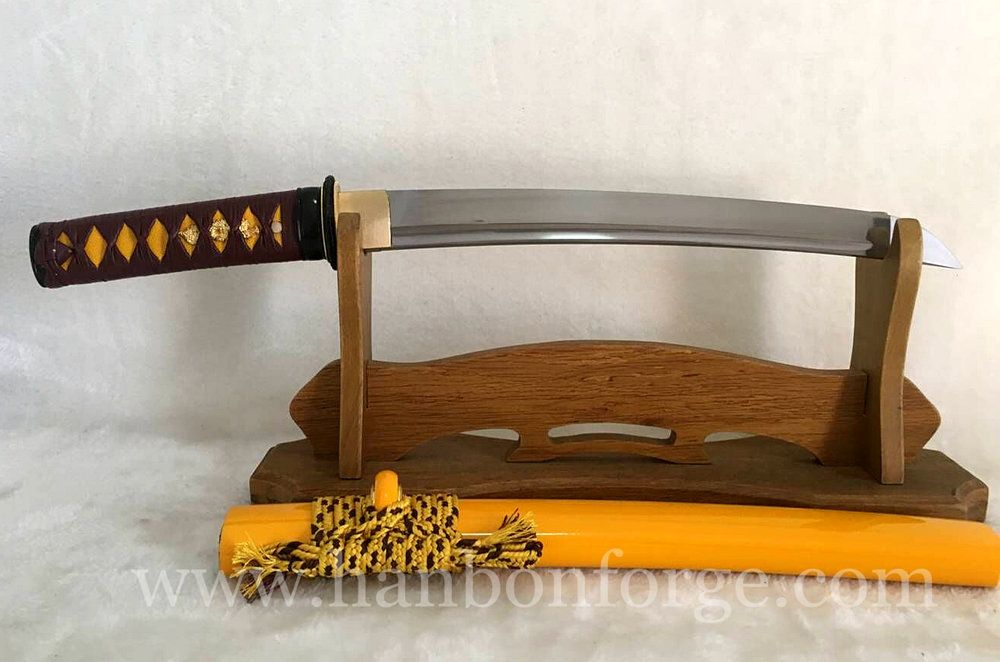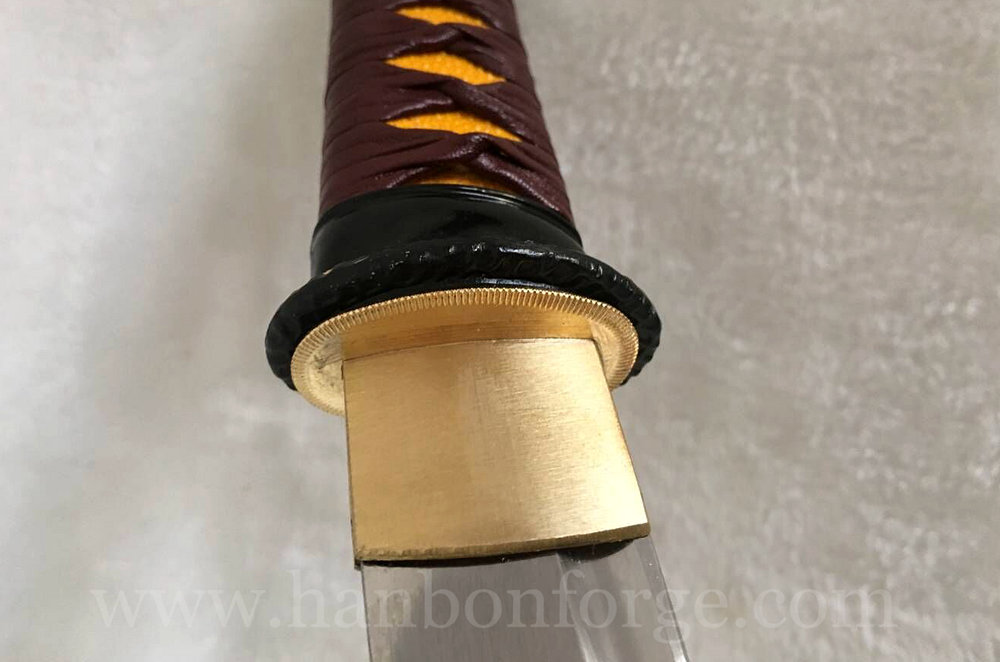 Want a unique sword? Feel free to contact us
Skype: hanbon-sword
Phone: 086 13739276006
Email: [email protected]
Website: www.hanbonforge.com
Custom Sword Page: www.hanbonforge.com/CUSTOM-SWORDS/Custom-Your-Own-Swords
Save